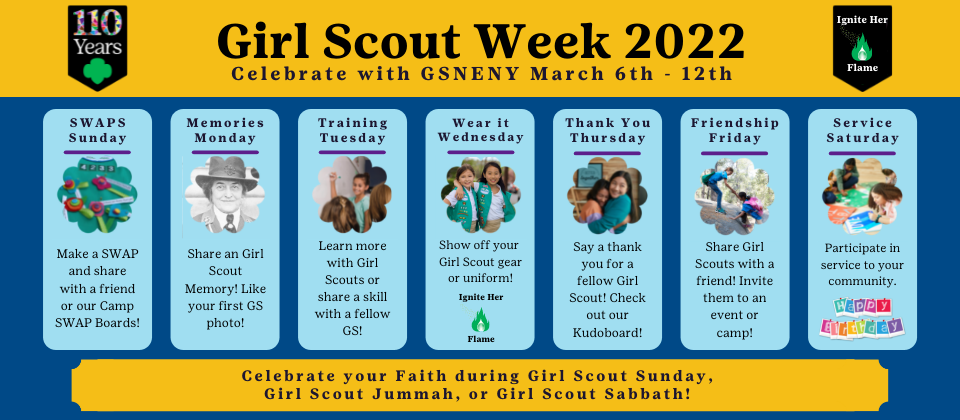 Girl Scout Week 2022
Girl Scout Week is coming up, but what is Girl Scout Week?
Girl Scout Week is celebrated each March, starting with Girl Scout Sunday and ending with Girl Scout Sabbath on a Saturday, and it always includes Girl Scouts' birthday, March 12 – so the dates move! This year Girl Scout Week is March 6th-March 12th! During Girl Scout Week there are two special days:
Girl Scouts' birthday, March 12, commemorates the day in 1912 when Juliette Gordon Low officially registered the organization's first 18 members in Savannah, Georgia.
Girl Scouts Celebrate Faith events give Girl Scouts an opportunity to be recognized at their places of worship during Girl Scout Week, share their legacy of service to others, and deepen their connection to their faith and Girl Scouting. Celebration days include Girl Scout Sunday, Girl Scout Jummah, and Girl Scout Sabbath/Shabbat. This is a great time to earn your My Promise, My Faith Pin. 
This year Girl Scouts of Northeastern New York have a whole week of special activities for you! 
SWAPS Sunday! Celebrate classic Girl Scout traditions by making Girl Scout SWAPS! Learn how to make SWAPS in our All About SWAPS – Tips for Troop Leaders or our SWAPS Guide.
The next time you visit one of our Service Centers or Camp Properties be on the lookout for one of our SWAPS Boards where you take a SWAPS, leave a SWAPS! There are boards currently at Hidden Lake Camp in the Dining Hall, Camp Is-Sho-Da in the Troop House, and all three Service Centers! Boards will be coming to Camp Woodhaven and Lake Clear Camp in the spring! Don't miss this SWAPortunity!
Memories Monday! We want to see your Girl Scout Memories! On your social media share your old Girl Scout photos! This could be you at camp for the first time, your first year in Girl Scouts – let's see those amazing glow-ups! Make sure to tag @GirlScoutsNENY and #GirlScoutWeek!
Training Tuesday! It's time to learn and grow with a new skill! Check out some of our great training videos – we'll make sure to share them on Facebook that Tuesday! For our adults, make sure to tune in for our Facebook Live for this month's S'more Learning – All About Booths!
Wear it Wednesday! Show off your Girl Scout pride and wear your favorite Girl Scout outfit or your uniform! As you join us for Ignite Her Flame, snap a picture of you or your watch party in their Girl Scout Gear. Make sure to share to your social media and tag @GirlScoutsNENY and #GirlScoutWeek!
Thank you, Thursday! We want to make sure all Girl Scouts feel loved and appreciated! Girl Scouts of Northeastern New York would love to thank you for all of your time, hard work, and continuing with Girl Scouts! We would love for you to share your thanks with our Kudoboard! You can thank another volunteer, a fellow Girl, or any other special Girl Scout in your life! You can also check out all of the amazing love already shared on our Kudoboard!
Friendship Friday! Share Girl Scouts with a friend – invite them to an upcoming troop activity, a Council program, or see if they'll join you at camp! Do you know an adult that would make a great volunteer – invite them to volunteer and grow your garden!
Service Saturday! Honor Girl Scout's Birthday with service to your community! Make a donation to Ignite Her Flame, schedule a day to volunteer at camp, ask for a donation to the Cookie Care & Share program!
Throughout Girl Scout Week as you celebrate make sure to tag @GirlscoutsNENY and #GirlScoutWeek! You can even change your Facebook profile photo to show your GS Pride!
Check out these downloads!