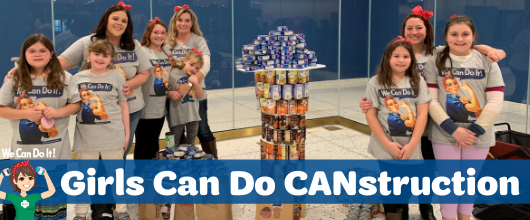 Girls Can Do - Blast off!
GSNENY held a food drive collection for canned goods even boxed food, then "CANstruct" into an object based on a theme. By participating you and your Girls are "Making the World a Better Place" helping those facing food insecurity.

After canned goods were collected throughout the Fall, Girls mapped out and determined what they will CANstruct at this year's event held in January. The teams built their constructions in the morning and in the afternoon they were judged by members of the CANstruction and Food Pantries Organization in several categories.
Check out the winners below!

Girls Can Do Resources

CANstruction Videos

CANstruct Timelapse Video