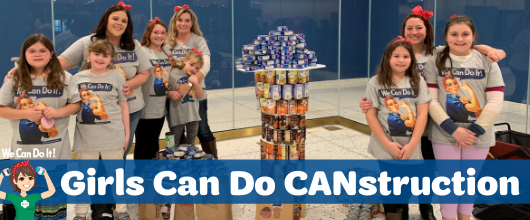 Girls Can Do - Carnival!
GSNENY held a food drive collection for canned goods even boxed food, then "CANstruct" into an object based on a theme. By participating you and your Girls are "Making the World a Better Place" helping those facing food insecurity.

Girl Can Do Carnival of Food
It is more important than ever to assist with food insecurity in our communities considering the current situations in our area along with a greater need for foodstuffs after the holiday season. You can help by participating in Girls Can Do where STEAM is combined with a great community service project.
Girls Can Do teams have been as small as 1 girl up to an entire Service Unit! Teams hold a food drive and look for support locally for different food items to build a canstruction based on the GSNENY Carnival theme for this year. By participating in this fun, hands-on learning event you will be helping to "Make the World a Better Place".
After canned goods and other packaged food items, (remember no glass containers), are collected throughout the Fall, Girls map out and determine what they will CANstruct at this year's event held on January 15, 2022, at the Empire State Plaza. The teams build their constructions in the morning and in the afternoon, they are judged by members of the CANstruction and Food Pantries Organization in several categories.
This year a theme will not be offered by CANstruction.  The New York State Museum is no longer available for the spring, due to switching its event to the fall of 2022. Girls Can Do will now have a bigger impact in the Capital District and beyond this year.
Check out the winners from 2021 below!

Girls Can Do Resources

CANstruction Videos

CANstruct Timelapse Video